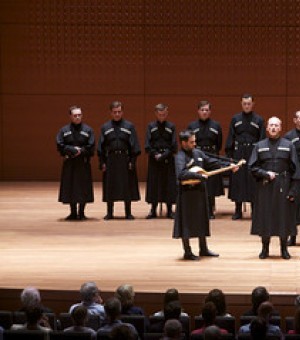 "Lincoln Center's Mostly Mozart Festival. Highlights Musical Concept of 'Polyphony'"
By Alexandra Cheney. August 15, 2010, "The Wall Street Journal"
Polyphony is concept that's defined as the interweaving of two or more melodic lines within a larger composition. It's also the inspiration for Pierre-Laurent Aimard's six-part  "Bach and Polyphonies" series, which premiered Friday night at Lincoln Center as a part of the Mostly Mozart Festival.
In the opening polyphony show, Aimard braided together a program from the artistic contributions of the 18-member Ars Nova Copenhagen and the Ensemble Basiani, an all-male Georgian group that chants sacred and folk songs. Alternating the play between the two groups, Aimard engineered a sense of adventure throughout the evening.
"I wanted to bring about a light, joy, festive spirit," said Aimard. "Each of the pieces are in confrontation with other polyphonic pieces, with their quality and intensity. I'm taking a risk, but I want to share the joy of discovery with the audience."
Making their North American debut and swathed in a sea of black robes, the twelve members of Ensemble Basiani marched in unison to the center of the Alice Tully Theater stage after Ars Nova Copenhagen opened with Bach's "Jesu, meine Freude, BWV 227."
Stepping into formation, the men abruptly began singing in bright, crisp voices. With minimal vibrato and a strong semblance to three-voiced polyphonic folk music, Ensemble Basiani completed five songs before the intermission, each markedly different from the last. After another performance by Ars Nova Copenhagen, Ensemble Basiani — in their traditional chokhas robes adorned with bullets and a sword — reappeared onstage to a hearty applause. Singing, chanting and yodeling, the members rearranged themselves onstage before every song, each of which exposed a different facet to the polyphonic texture. "We hope that no matter where you are or what you think, when you leave the theater we hope you carry out the positive energy of Georgia," said Donadze in Georgian, adding, "We hope the melody goes with you."