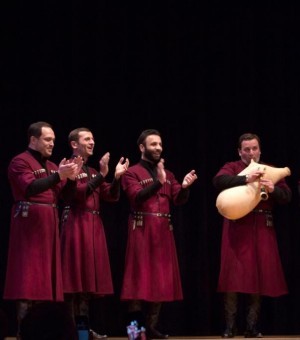 An Otherworldly, Mesmerizing Performance by Georgian Choir Ensemble Basiani
Inside the Town Hall last night, the atmosphere was not quite as dark and stormy as the unseasonable torrents pelting the midtown streets. Out of the rain, a robust, enthusiastic, mostly Russian-speaking crowd were engaged by some of the most otherworldly sounds resonating on any New York stage this year. Music from the Republic of Georgia is instantly recognizable – there's nothing like it anywhere in the world. While the twelve men of the eclectic and often electrifying choir Ensemble Basiani sometimes echoed the solemn, brooding quality of the Russian tradition, as well as a couple of interludes of lustrous polyphony in the same vein as Palestrina or Monteverdi, most of their music was strikingly and unmistakably distinctive.
Singing completely from memory, the choir seamlessly aligned an endlessly shifting series of uneasy close harmonies, when they weren't firing on twelve individual cylinders' worth of wry, sometimes droll call-and-response. Much of the material in their repertoirs dates back hundreds, maybe thousands of years, yet those harmonies are so strangely sophisticated that they're avant garde: music that old suddenly becomes new again. Stravinsky took melodies like those from further north on the Russian continent and turned them into the Rite of Spring – nobody knew at the time how much he was simply appropriating ancient village themes.
There wasn't a lot of the ornamentation found in Ukrainian, Baltic and Balkan music in this set, but when there was, the choir worked those effects for all the deadpan humor they were worth. One number pulsed along with an emphatic "huh" refrain worthy of James Brown. The opening and closing pieces featured one of the tenor voices leaping around, utilizing a device that came across as half yodel, half chirp. And he was very good at it!
Likewise, the group worked the dynamics up and down, from insistent, rhythmic agrarian chants, to rapt hymns, to a handful of slowly crescendoing, hypnotic themes which a couple of guys in the ensemble accompanied with bandura lutes. Another number featured a larger-body lute to match the heft of the music. One of those songs, possibly the biggest hit with the audience, was recognizable as a larger-scale arrangement of an ancient folk tune memorably recorded by the duo of acclaimed American singers Eva Salina and Aurelia Shrenker on their classic AE album. The audience finally came out of their trance and began a spontaneous clapalong; at the end of the concert, they wouldn't let the group go and after several standing ovations were treated to three encores. Ensemble Basiani's next stop on their American tour is November 1 at the Krannert Center for the Performing Arts, 500 S Goodwin Ave in Urbana, IL; tix are $33.