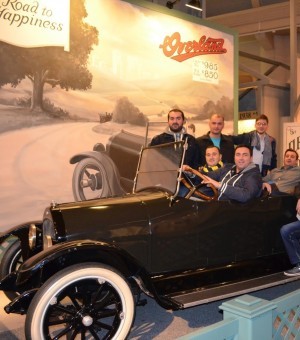 Basiani on the Road: "California or Bust!"
David Eden Productions, Tuesday, October 16, 2012
Ensemble Basiani is ready to conquer the US in a 1917 Overland Touring Car, on display at the Henry Ford Museum

Basiani's tour continues and here's what the critics have had to say so far:
"The spirit, discipline, control and power of tone from Basiani is among the best Georgia has to offer, and the large crowd responded with multiple standing ovations."
--Clayton Parr, AnnArbor.com
"This troupe of 12 men with strong voices and amazing lung capacity launched into a near psychedelic groove of unusual harmonies, rhythmic intensity and sheer beauty. Singing without accompaniment, with the exception of either the panduri or chonguri, both long-necked lutes of ancient Greek origin, Ensemble Basiani flawlessly illustrated the diversity of the rich polyphonic vocal tradition of Georgia."
--Gayle Williams, Sarasota Herald-Tribune
"If you had told me that I would spend a Saturday afternoon listening to Georgian folk songs and chants and end up actually experiencing goose bumps, I would never have believed you."
--Kay Kipling, Sarasota Magazine
It has been an amazing two weeks for Ensemble Basiani, as their first national tour of America has traced a path from Michigan, where University Musical Society (UMS) hosted their debut concert in Ann Arbor's St. Francis of Assisi Church, to the Krannert Center for the Performing Arts' Foellinger Great Hall, and then a sunny weekend in Florida appearing at Sarasota's Historic Asolo Theater for the Ringling International Arts Festival and at Gainesville's University Auditorium for University of Florida Performing Arts. Audiences have been left awestruck, and it is clear already that this tour is a milestone event that people will be talking about for months, if not years, to come.
Basiani is presently being hosted at Dartmouth College by the Hopkins Center for the Arts, where they are participating in various residency activities and performing tomorrow night, October 17, at the Spaulding Auditorium. From there, the ensemble heads west to California, appearing in Berkeley under the auspices of Cal Performances and to Santa Barbara as part of the UCSB Arts & Lecturesseason this weekend. Ensemble Basiani's US tour will then conclude on October 27 when they perform as part of the White Light Festival, presented by Lincoln Center for the Performing Arts, at the Church of St. Mary the Virgin in New York City.
Don't miss this rare opportunity to experience Ensemble Basiani before they return home to Tbilisi!